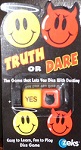 The Game that Lets You Dice with Destiny!
Each player takes it in turn to first toll the Yellow Destiny Die. Depending on what is rolled you move onto the Red Truth or Dare Die and your Fate!
Truth or Dare ~ $5.95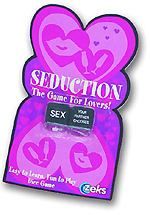 You and your lover take it in turns to roll the Sedution die and perform the erotic commands shown, if you are lucky enough you can proceed to the Sex die and watch things really heat up!
Seduction The Game for Lovers! ~ $5.95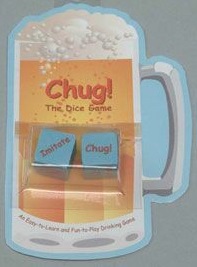 Players take turns rolling the dice. The frist die tells you who drinks and includes assignments like "Women Only" and "To the Left". The second die lets you know how much the assigned drinkers drink and includes items like "2 Drinks" and "4 Drinks". Additionally, there is a "Imitate" roll where the roller performs a gesture that everyone else imitates, and the last one to do so drinks. Also, there is "Impose A Rule" where the roller defines a rule that applies to the "Assigned Drinkers" for the rest of the fame. When "Chug" "Chug" is rolled, everyine finishes their drinks!
Chug! ~ $5.95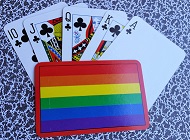 Rainbow Playing Cards ~ $4.95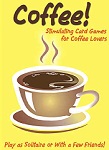 Stimulating Card Games for Coffee Lovers
Play solitaire or with freinds! How fast can you make a cup of coffee? How about TEN cups of coffee? Test your skills as a barista with Coffee!, the premuim playing cards for coffee lovers. Included are rules fo two enteraining card games. Barista! is a strategy solitaire game where you try to build ten coffee drinks. In Percolator, two-four players race to build the first coffee drink.
Coffee! Card Game ~ $5.00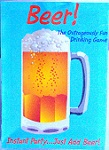 The Outrageously Fun Drinking Game
The hilarious card game where you assign drinks, steal from each other, have blackouts, and even an occasional drunken hookup. Beer! also tests your knowledge of crazy categories like: Types of Liquor, Cartoon Dogs, and Excuses for Not Making Love. You win by holding the highest valued drink cards at the end of the game. And if you win, you get to assign LOTS of drinks to the other players. For 2 - 6 players (add a second deck for 7 - 12 players). Contains a Deck of 54 Playing Cards & Instructions.
Beer! Card Game ~ $5.00